Hybrid Selection and Marketing Implications for Genetically Modified Corn
---
Announcements by corn processors, first in the United States, and now more recently in Ontario, that they will reject genetically modified corn hybrids which have not been approved for importation and usage in the European Union (EU) have sent a wave of confusion through the corn industry.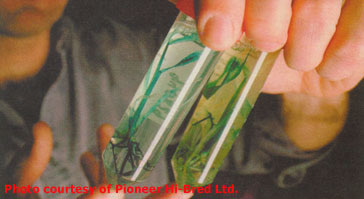 The U.S. Corn Refiners Associations, Inc., took the lead on this issue by releasing a statement on April 15, 1999 which explained that although corn processors do not export genetically modified organisms (GMO) requiring EU regulatory approval, they do export corn products to Europe, especially gluten feeds and corn oil. Food processors in the EU request that varieties of transgenic corn not approved in the EU not be used at domestic processing facilities where processed products are produced for export. Table 1 outlines the genetically modified events that so far have not received EU approval. Corn hybrids containing these non-EU approved events would therefore not be used by members of the Corn Refiners Association. Subsequently, Archer Daniels Midland and A.E.Staley, two large U.S. wet millers, announced on April 16 that they would not accept non-EU approved hybrids. Corn Products International, and therefore Casco, followed suit on April 23.


Table 1. Genetic modification events not approved for importation or usage in the European Union.

Event(s)

Trait

Mon GA21 (Monsanto Roundup Ready)

Resistance to Roundup herbicide

DBT 418 (Dekalb BT Xtra)

Protection from European Corn Borer

DLL 25 (Dekalb GR)

Resistance to Liberty herbicide

Mon 810 + Mon GA21 (Monsanto Yieldgard and Monsanto Roundup Ready, stacked)

European Corn Borer protection and resistance to Roundup herbicide

Mon 810 + T25 (Monsanto Yieldgard and AgrEvo Liberty Link, stacked)

European Corn Borer protection and resistance to Liberty herbicide

T14 (AgrEvo Liberty Link)

Resistance to Liberty herbicide

CBH 351 (AgrEvo Starlink)

European Corn Borer protection
Know Before You Grow
It should be pointed out that all of the events listed in Table 1 (with the exception of CBH 351) are fully registered for domestic use. Also it must be noted that the vast majority of genetically modified corn hybrids (i.e. nearly all Bt hybrids) that will be used in Ontario in 1999 are approved for export to the European Union. This fact is reflected in Table 2, which lists the non-EU approved hybrids which are marketed in Ontario. If a producer is in possession of non-approved hybrids his course of action over the next day or two will depend largely on his marketing options. For those who direct all or most of their corn to feed usage on their own farms or local operations the need to change hybrids is minimal. Producers are urged however to check with local users of corn in regards to these decisions. Corn producers who move the majority of their corn into what would could be considered a potential export market may need to be more cautious. To our knowledge at present, Casco, Commercial Alcohols, and Nacan have decided to not accept non-EU approved GMO corn as have most other industrial users. Pet food processors, especially if they export to Europe, may not accept such corn. Therefore, some elevators and dealers may not accept it either. It is possible that only a few elevators and dealers will still accept it (those with the capability of segregating, handling, and storing separately). It is probable that non-EU approved GMO corn might face a discount when sold because of limited marketing flexibility.
Table 2. Corn hybrids marketed in Ontario which are not approved for importation or usage in the European Union.

Seed Company Non-EU approved hybrids
Dekalb
DK364BtX, DK468BtX, DK493BtX, DK566BtX
DK325GR, DK345GR, DK385GR, DK417GR, DK493GR
DK335RR, DK359RR, DK387RR, DK448RR, DK493RR, DK520RR, DK545RR, DK545RR/BtY
Pioneer

34T14, 38B22

Zeneca-Garst

8756RR
Note: Although every effort has been made to ensure the accuracy and completeness of this list growers are advised to clarify any concerns with seed company representatives.

Know Where You Grow
Those producers who eventually are successful at navigating through, and potentially profiting from these challenges brought on by biotechnology will be those who can meet the demands of market fragmentation. You, as the producer of the corn, are the only person in the chain from seed to end product who knows for certain what was planted and what was harvested. It would appear that dealers and processors, who decide to reject non-EU approved GMO hybrids, will require a statement from the producer certifying that only approved GMO hybrids were grown and that segregation procedures were followed. Thorough protection of your position as a grower may eventually require that you have records outlining isolation techniques (pollen from neighbouring non-approved hybrids may contaminate your corn) as well as procedures taken to ensure that inadvertent contamination did not occur at the combine, wagon, truck, elevator leg, drier, bin, or auger. You will need to know how to handle and possibly be able to document that you cleaned equipment thoroughly and segregated EU approved GMO corn prior to, during, and following harvest.
Monitoring
Traditionally there has been no quick, economical test available for use at a receiving elevators or processors to detect GMO corn. These testing procedures used at large labs (mostly in the U.S.), require samples to be taken and forwarded, are expensive, and take about 2 weeks, thus precluding any delivery point monitoring. However, Dr. Emerson Nafziger, University of Illinois commented on the potential for corn processors to monitor received corn. One new development this year is the very recent appearance of test kits for some of the genetic modifications. These will be simple, easy to use with either grain or plant material, and will give readings quickly. The ones I have heard about so far detect approved Bt events and thus won't be much help to prevent the entry of unapproved hybrids. Development of new kits to find unapproved hybrids may well happen quickly though and such tests may become available for use at delivery points. In short, it is not a good idea to plan to sneak unapproved corn into places that have said they won't take it.
Hopefully the issues concerning the management of genetically modified corn hybrids can be sorted out smoothly in the months ahead. Producers will need to stay informed as situations may change rapidly. For the most part this will mean working closely with both those who sell you seed as well as those who buy your corn.
Updates Concerning Genetically Modified Corn Hybrids and The European Union Can be Found At the Following Web Sites:
Ontario Corn Producers' Association
National Corn Growers Association
OMAFRA Home Page
Chat'N Chew Cafe - Bob Neilsen, Purdue University
U.S. Corn Refiner's Association
Crop-Pest Ontario Newsletter