Strengths and Weaknesses
By Mike Cowbrough, Weed Specialist, OMAFRA
---
Following is a summary of some of the "lower cost" herbicide options for field corn on the market. The fit that each of these programs has on your farm will depend on how well you know the following:
The weed infestations in each field,
- i.e., species, time of emergence and density
Soil Type in the target field (for soil applied herbicides)
- Heavy textured soils that are high in organic matter usually require a higher rate.
If weeds that were not on the product label emerge later, am I able to deal with them?
- Either with cultivation or a timely follow-up herbicide application, a limited number of different species that are controlled by the selected herbicide. For example, Prowl may be a very appropriate herbicide choice provided the weed spectrum in the field is limited to the weeds on the Prowl label.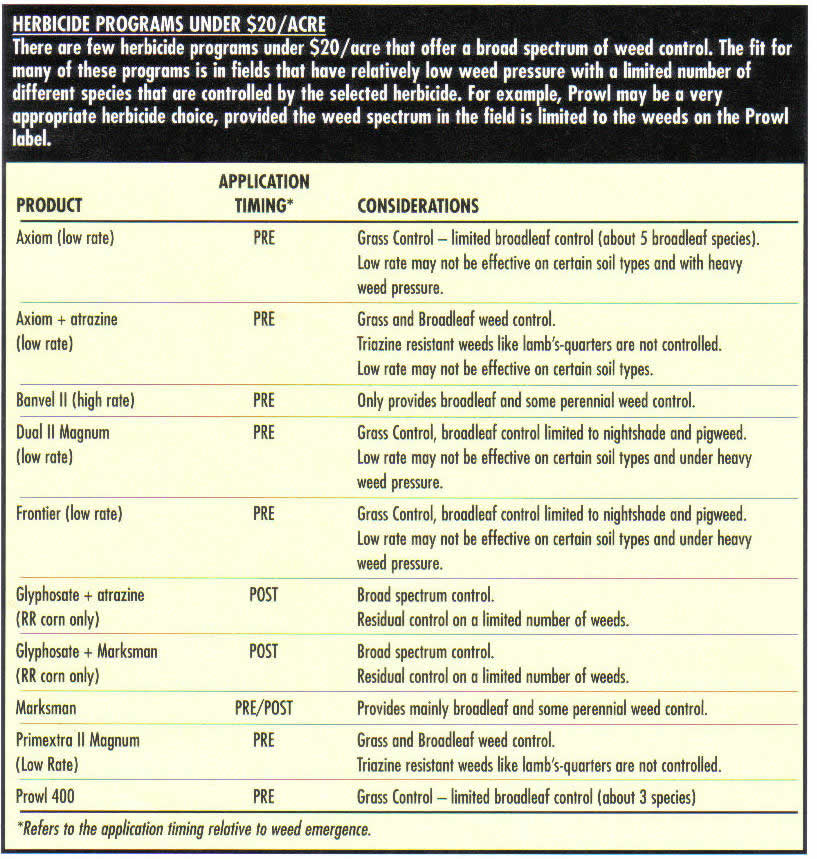 Herbicide Programs Under $10/acre Or Over $30/acre
There are numerous broadleaf herbicide programs under $10/acre. However, they are unlikely to offer complete season-long weed control unless tillage or a follow-up herbicide application is incorporated into the weed management program. Hence, they will not be discussed in this review. Similarly, there are numerous broad spectrum "premium" herbicide programs that cost more than $30/acre that have fewer considerations in terms of management and scouting and therefore may be the best option for your farm, but they will not be listed in this overview.
Summary
A very real opportunity exists to minimize weed control costs. It is accomplished by either scouting fields yourself or hiring a crop consultant to do so for you. Often unnecessary weed control costs are avoided by knowing exactly what weed species are in the field, then targeting control with a herbicide that specifically addresses those weeds.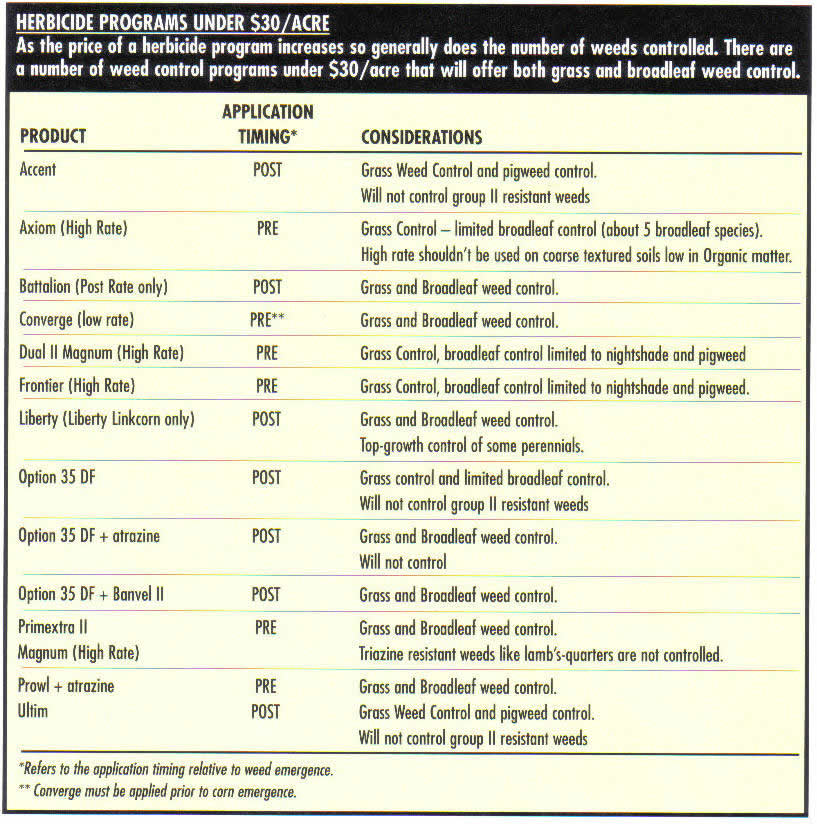 Resources OMAF Publication 75 - "Guide to Weed Control" (to find go to www.google.ca and search: "Guide to Weed Control")
2005 Problem Weed CD - contact Mike Cowbrough 519-824-4120 ext 52580 or mike.cowbrough@omaf.gov.on.ca
Selected Manufacturer Web Sites:
BASF www.agsolutions.ca
BAYER www.bayercropscience.ca
DOW AGROSCIENCES www.dowagro.com/canada
DUPONT www.dupont.ca/ag
MONSANTO www.monsanto.ca
SYNGENTA www.farmassist.ca
---